What are locals saying about Vancouver's Broadway plan?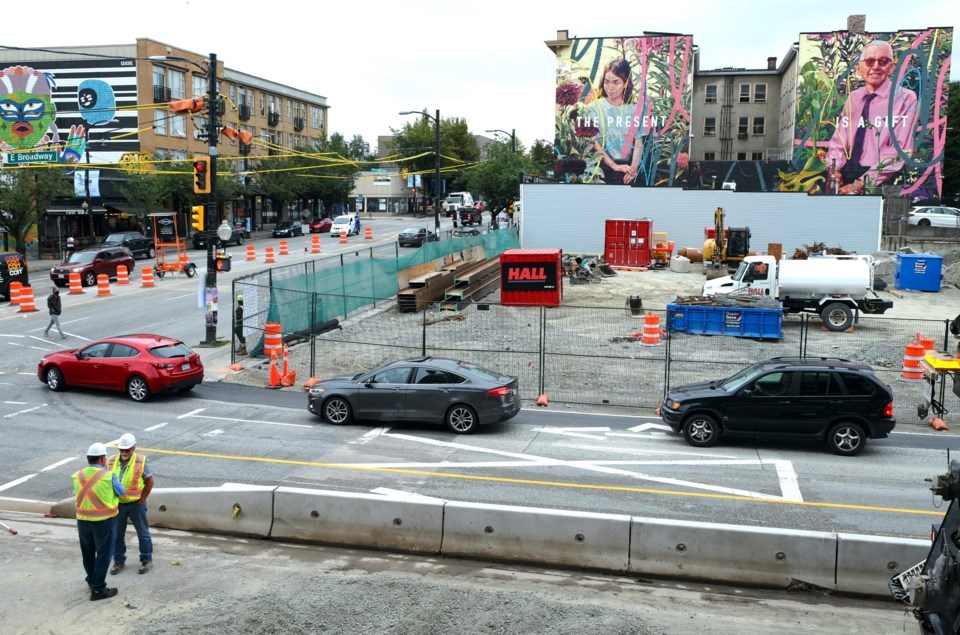 Sometime next week, City Council will decide whether the controversial Broadway plan will be given the green light, rejected outright, or sent back to staff for further review.
The Council is due to meet in the afternoon of June 9 to make a final decision.
But with several amendments expected to be introduced and debated, and the current board known for its long meetings, a decision on the plan could be postponed until another day this month.
Whatever happens, the level of interest from residents will be high, as evidenced by the number of citizens who showed up at City Hall or called to express their support or opposition to the project.
According to the city's communications department, 156 of the 202 registered speakers addressed the council. This, of course, does not include the pile of emails that Mayor Kennedy Stewart and the 10 councilors received from citizens.
To get an idea of ​​what some people think of the plan, Vancouver is great randomly selected six residents who have shared their views with council over the past month.
Below is a summary of their main points.
'Scream the loudest'
• Jade Buchanan, father of a toddler in Kits Point, said he supports the plan because of its aim to create more homes for families and tenants, as well as provide more child care spaces.
Dense cities, Buchanan said, are very livable cities.
"They facilitate public transit and active transportation," he said. "Active transportation and public transit are kid-friendly, safer for our kids, and good for our health. And cities are also important sources of innovation.
He urged council not to seek further consultation on the plan, as many residents have requested. The plan isn't perfect, he added, noting changes are needed, including targeting low-density areas for more development and adding a bike lane on Broadway.
"I really ask the council not to send this back to staff for minor issues and not to do more study or consultation," Buchanan said. "Frankly, I feel like the city is putting citizens through a consultative endurance test where those who shout the loudest for the longest time succeed."
That's why, he says, he signed up to speak to the council.
"I'm here because I'm afraid that council is listening to the same small group of people who come to council to oppose every project, who hold their well-organized but sparsely attended rallies, who form residents' associations and advocacy groups. and who pay political consultants to get their message across to the media to make their voice sound bigger than it is," Buchanan said.
"And they never seem to be satisfied with enough studies, consultations, data or awareness campaigns."
"Move or Close"
• Chan Hon Goh did not say whether she supported the overall plan, but said it fell short in areas that relate to the family's Goh Ballet Academy located in a heritage building at Main Street and Eighth Avenue.
The family wants to restore the building as part of a larger project that would include accommodation for academy students.
But Goh said the Broadway plan does not allow for an increased floor area ratio or a taller building on the site, which is necessary to make the project viable.
Goh urged the council to increase the maximum floor space ratio from 3.0 to 12 and allow a 14-story tower instead of an eight- or nine-story tower; Floor area ratio is the ratio of the total usable floor area of ​​a building to the total area of ​​the land on which the building stands.
"Given the constraints of the site, nine floors would be insufficient to create economies of scale for a 100% rental project with a very expensive heritage restoration requirement," Goh said.
"We need your understanding and support to ensure that our cultural institutions like ours will not be forced to relocate or close. Supporting heritage preservation and arts and culture in Vancouver can only benefit our city and the communities within it.
"Real estate speculation frenzy"
• Thomas Kroeker, a 16-year-old student at the University of British Columbia, opposes the plan because he says it's designed for developers and the real estate industry, not residents.
"It will trigger mass displacement along the corridor and cause a frenzy of real estate speculation and rent hikes in the area," he said, suggesting that the plan threatens his friends and family who live in the corridor of Broadway of "demoviction".
He called the provisions of the tenant protection plan "ineffective".
"They don't specify where tenants will live after 'demoviction,' nor do they guarantee that tenants will be able to return home at the same rent," Kroeker said, before commenting on housing that might be available at 20% below rents. of the market.
"Twenty percent below market doesn't mean much until we recognize that it's the developers who make the market in the first place."
Kroeker added, "Furthermore, this does not take into account unit size and rent per square foot, which will certainly increase even more as developers continue to downsize units to increase their profit margin. "
"Visionary Planning"
• Gregory Henriquez of Henriquez Partners Architects has appeared before the board numerous times over the years to discuss projects related to his firm's work.
This time, he said, he was speaking as a private citizen.
"I just want to start by saying that I have complete confidence in [city] staff and this board to do the right thing and enact this Broadway plan," Henriquez said. "I think it's a piece of visionary planning. When I first opened it I was blown away by the brave nature of the plan for how it attempted to take on so many.
Like others, Henriquez said the plan isn't perfect, but that shouldn't stop the board from approving it and making adjustments along the way.
It's a living document, he said, that will continue to change as the city evolves.
"As I have followed him over the last few years in terms of his development, I have seen him change and adapt with real rigor and a real sense of caring to all the issues facing Vancouverites," he said, referring to the need for more affordable housing, accommodative growth and climate action.
Henriquez added, "There are a whole bunch of separate reviews of each of the different zonings in each of the different areas and sub-areas of the Broadway plan that will need to be looked at. So there is nothing perfect. But the big moves are going well. That's the big message here today is that big moves are going well, and that's something we can work with.
"Unpopular Comment"
• Bryce Margetts, a 47-year-old Vancouver resident, said he supports the plan but needs more thought, especially to allow more towers on a block.
Margetts is the Senior Vice President of Investment and Development for Canderel's Western Canada division.
The plan, he said, may not be perfect, but the city's staff and consultants have done "an excellent job and we've been working closely with them for years to try to bring it to fruition." well this plan".
He said the company has "active projects" in the Broadway corridor, including a project it wants to complete with Vancouver's La Maison de la Francophonie.
"We've been working with them for six years trying to get this project off the ground, and we've been caught up in the Broadway plan process for several years trying to deliver this new house with cultural amenities, including a brand new 160-person house. . performance theatre," he said.
"The viability of the project depends on moving forward now. We cannot wait and delay any longer and we cannot be the only project in this position.
Margetts criticized the plan for not allowing more rounds.
"In the Fairview, Kits and Mount Pleasant areas, the final project [of the plan] – in my opinion – was changed at the last minute from allowing two turns per block to allowing two turns per block street-to-street including lane," he said.
"For those of us following the plan, it basically cut the supply in half of what we expected. It may be an unpopular comment, but I think it's ridiculous. We're only densifying 300 feet by 1,000 feet on every street-to-street block, including the track — and we're not taking advantage of such a huge opportunity for a $3 billion investment in a transit line.
'Beautiful views'
• Amanda Collinge, a resident of Fairview Slopes, said she opposed the plan because of potential changes that could occur in her neighborhood and obstruct views.
Collinge and her partner moved into a heritage building designed by Arthur Erickson in the area a year ago.
"We are both hard working individuals," she said. "He's an immigrant, I come from a middle-class family. We worked multiple jobs so we could afford to live in Fairview with beautiful views. This is one of the neighborhoods where you can still see a view. We always talk about how lucky we are to see the beautiful views."
It is these views that Collinge believes will be lost once the Broadway plan is fully constructed.
"Our net worth is tied to our home, and removing these opinions will effectively reduce our net worth," she said.
"Not only will this destroy everything in our sights and those of our neighbours, but we will live in perpetual shadow. Being in a heritage house and a five-unit stratum, we are unable to add windows due to the heritage aspect. So we will live in darkness if towers are built around us.
Collinge said her neighbors are people from a variety of backgrounds and income levels, and she fears development in the area is pushing people away.
"You'll have people who are in co-ops and low income who will be kicked out," she said, noting that such development could also lead to the purchase of landlords like her. "For me, it's not good. Everyone in the neighborhood would indeed be out of place, and I don't think that's what it's about in Vancouver.
You can read a summary of the plan here.
@Howellings