Highland Pointe Sale Exceeds $25 Million (Actual Sales) | Arkansas Business News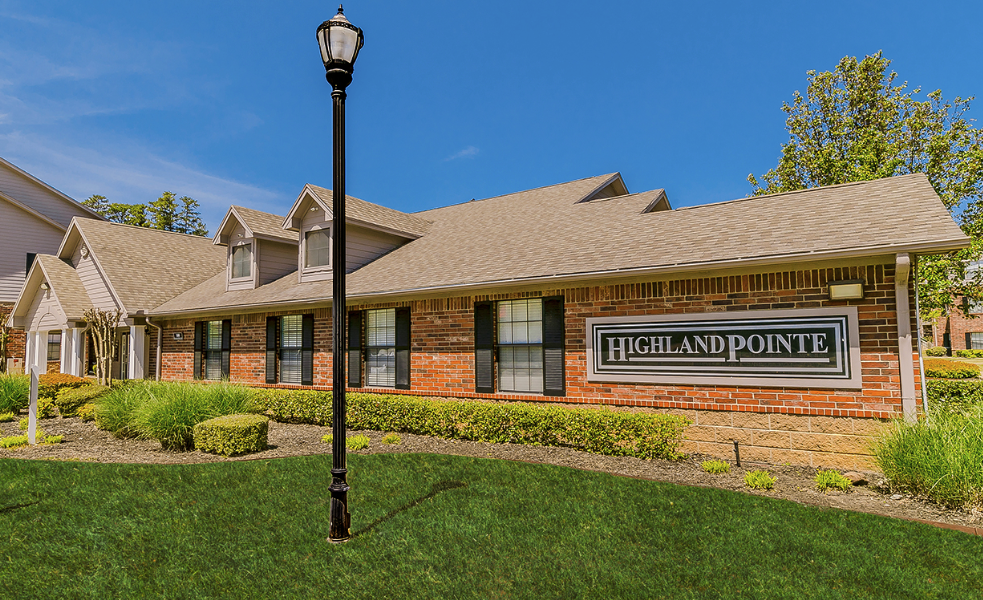 We were unable to send the item.
A 168-unit apartment project in Maumelle tipped the scales at $25.2 million.
Thirteen LLCs, affiliated with Canyon View Capital in Santa Cruz, Calif., have purchased Highland Pointe Apartments at 100 Commercial Park Court.
The seller is Maumelle Housing Associates LLC, a subsidiary of Maxus Properties in North Kansas City, Missouri. The deal is backed by a 10-year, $13.8 million loan from M&T Realty Capital Corp. from Baltimore.
The 10.37 acre location was acquired for $761,000 in September 2002 from Gene Pfeifer and his wife, Linda.
Joint transaction
The 70,710-square-foot Chenal Commons mall in west Little Rock recorded a $14.55 million sale.
VW Chenal Commons LLC, a subsidiary of Vassar West in Houston, purchased the 12801 Chenal Parkway project from Chenal Commons DST, a subsidiary of Inland Private Capital Corp. of Oak Brook, Illinois.
The deal is funded by a five-year, $9.6 million loan from Encore Bank of Little Rock.
The 5.5-acre development was purchased for $12.2 million in November 2004 from Chenal Retail Inc., owned by the Arkansas Public Employees Retirement System.
Industrial purchase
The nearby industrial flex buildings in west Little Rock were worth $3.71 million.
Clearwater Brandon LLC, led by Michael Larkin, acquired the 41,447-SF project at 5310 S. Shackleford Road and the 23,450-SF 7 Clearwater Drive project from a group of trusts and individuals.
Original ownership was split between Michael and Anita McKee, 48.2%; Joseph and Carol Hartman, 18.3%; James and Lorilee Hartmann, 9.1%; Guillaume and Claire Hartmann, 9.1%; Donald and Susan Whitley, 6.9%; John and Bonnie Hartmann, 4.3%; and Brett Prahl, 4.1%.
The deal is funded by a five-year, $3.8 million loan from Citizens Bank of Batesville.
The 4.13 acre development was purchased for $2.5 million in June 2002 from Pama LLC, led by Dickson Flake.
Mix acquisition
A 15,000 square foot repair garage in North Little Rock is under new ownership after a $1.77 million deal.
Medley Little Rock Property LLC, a subsidiary of Medley Equipment Co. in Oklahoma City, purchased the United Rentals project at 121 House Court. Seller is MPI Little Rock LLC, a subsidiary of Moir Park Capital of Wayzata, Minnesota.
The deal is backed by a $1.1 million loan from Bank7 of Oklahoma City.
MPI acquired the 3.3-acre development for $885,250 in January 2018 from House Properties Inc., led by Barbara House.
Dollar offer
A US$9,020 General in Sherwood sold for $775,000.
Kais Properties Inc. of Milan, Illinois has purchased 14929 Hwy. 107 project of NGP LLC, led by John Baker.
The deal is funded by a five-year loan of an undisclosed value from Quad City Bank & Trust of Bettendorf, Iowa.
The 0.88 acre development was purchased for $715,000 in January 2015 from Long-Watson-Long Development LLC, led by Rodney Watson.
Warehouse Buy
A 63,074 square foot warehouse in Little Rock attracted a $450,000 transaction.
TFC Enterprises LLC, led by Thomas and Elizabeth Cox, acquired the 11800 Arch Street Pike project. The seller is Betts Real Estate Enterprises Inc., led by Craig Betts.
Betts bought the 4.4-acre development four months ago as part of a $700,000 deal with the Teresa Ann Stalnaker Revocable Living Trust.
ace office
A 3,120 square foot office building in West Little Rock has changed hands in a $406,000 deal.
Scott and Michelle Perkey purchased the 10819 Stagecoach Road project from Ace General Contractors Inc., led by Khaqan Bhatti.
The deal is funded by an 18-month, $324,800 loan from First Community Bank of Batesville.
Ace acquired the 0.49 acre site for $33,000 in October 2011 from Matthew Hunt.
Sale West
A 9,544-square-foot warehouse office in Jacksonville recorded a $300,000 sale.
FPHC LLC, led by John Holladay, purchased the 215 S. Redmond Road project from Clarence and Karen West.
The Wests purchased the 1.88-acre development for $139,000 in June 2013 from John McKay.
New Congregation
A church in southwest Little Rock is under new ownership after a $195,000 transaction.
Gregorio Escarcega, pastor of Iglesia Apostolica De La Fe En Cristo Jesus USA, purchased the property at 9712 Chicot Road from the New Rock Of Ages Missionary Baptist Church, led by Travis Liggins.
New Rock acquired the 1.12 acre development for $245,000 in September 2007 from Little Rock's Bank OZK.
Residence Orle
A 6,859 square foot home in the Orle neighborhood of Little Rock to the west tipped the scales at $1.18 million.
Morris Estep purchased Curtis and Regina Howse's residence.
The deal is backed by a 30-year, $1 million loan from Caliber Home Loans Inc. of Coppell, Texas.
The Hows acquired the half-acre site for $157,000 in November 2007 from Deltic Timber Corp. of El Dorado.
Warehouse transaction
Tomas and Renate Witt purchased a 15,200 square foot office warehouse for $1.6 million from Metro Towing & Recovery Holdings LLC, run by Lee Maris.
The 3.06 acre development at 11701 Vimy Ridge Road in Little Rock was acquired from Tommy Olive for $550,000 in September 2009.