Emerson has been in St. Louis for 132 years, business leaders aim to keep him here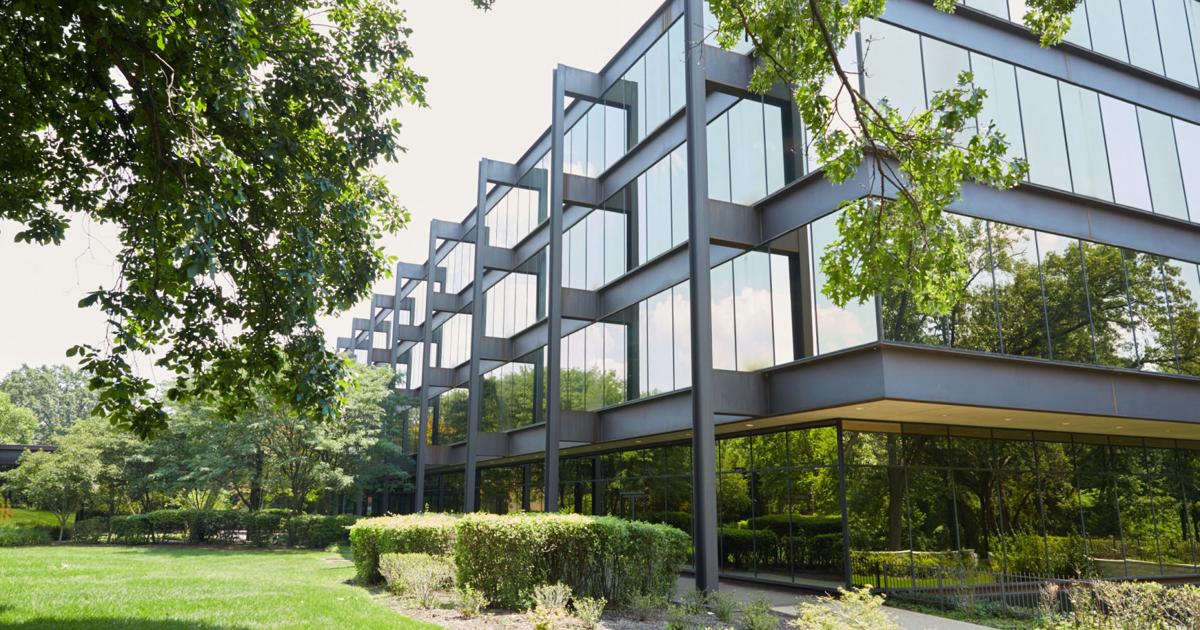 FERGUSON — Emerson posed the latest challenge to businesses and the civic community in the area this week, when the company announced plans to sell its current campus in Ferguson and was looking both in the St. Louis area and elsewhere for a new headquarters.
Emerson has been in the St. Louis area for 132 years. Now, local leaders will try to prove that the area has the amenities and growth potential to serve as Emerson's headquarters for decades to come.
"We're going to compete," said Greater St. Louis CEO Jason Hall. "And we don't take anything for granted."
Emerson has been in the St. Louis area since its founding in 1890 as a manufacturer of electric motors and fans, and its current location on West Florissant Avenue in Ferguson is at least in part the product of an effort to prevent the company to leave the region more than 80 years ago.
In 1940, when Emerson was located on Washington Avenue, the company received an attractive offer to move to Evansville, Indiana. Emerson chairman Stuart Symington told a reporter at the time that "free land, moving expenses and a commitment on taxes for a period simply cannot be ridiculed", according to the records of Post Dispatch.
Emerson workers, represented by the United Electrical, Radio and Machine Workers' Union, offered to advance the company $100,000 of their wages to match Evansville's offer and help pay for the cost of establishing a new site here. The company did not accept the workers' proposal, but ultimately decided to stay in town and build a new $10.5 million plant on West Florissant Avenue in Ferguson. When it opened, workers were making turrets for military aircraft used in World War II.
In 2014, Emerson recommitted to Ferguson following the fatal shooting of 18-year-old Michael Brown by police officer Darren Wilson, donating $4.4 million for scholarships and employment. young people in northern St.Louis County.
The headquarters raid disclosed this week is linked to another move announced by the company: the sale of a majority stake in its Climate Technologies business, which makes HVAC and refrigeration products. Its brands include Copeland, Vilter, Dixell, White-Rodgers and Sensi.
The Climate Technologies business had revenue of $5 billion in the last fiscal year, about a quarter of Emerson's revenue. The divestment is part of the company's broader shift away from consumer and residential products towards its automation solutions business.
Under terms of the agreement, Climate Technologies will be structured as a new joint venture between Emerson and private equity funds managed by New York-based investment firm Blackstone. Emerson will sell ownership of its Ferguson campus to the joint venture and enter into a three-year lease on the headquarters, where approximately 1,300 employees work, with an option to extend the lease for two years.
Meanwhile, the company plans to undertake a "comprehensive assessment of potential corporate headquarters locations," Chief Financial Officer Frank Dellaquila told investors Monday.
A company spokesperson said Emerson no longer needs all of the real estate on its 200-acre campus in Ferguson due to changes in company strategy and the growth of remote working. .
Emerson Chairman and CEO Lal Karsanbhai, who has a residency in Ladue, holds a degree in economics from the University of Michigan and a master's degree in business administration from the University of Washington . He serves a term on the St. Louis Federal Reserve Board which ends in December 2024.
Karsanbhai is a board member of Greater St. Louis and has been active in the group's efforts to secure direct flights from St. Louis Lambert International Airport to mainland Europe, Hall said.
State and city leaders often compete for prestige, jobs, corporate philanthropy, and local expenses associated with having a company headquartered in their area. But the importance of a corporate office to the communities they serve is different for different companies, said John Barrios, assistant professor of accounting at the University of Washington's Olin Business School.
For larger companies with overseas operations, the head office may accommodate fewer jobs relative to size. Or a technology company, for example, may operate entirely remotely, except for a monthly or quarterly meeting.
If Emerson ultimately decides to move its headquarters, Barrios said, the effect on the community will depend on what that move looks like. But either way, it would be a blow to the image of the region. "Even if the fundamentals don't change, it's still miscommunication," Barrios said.
Hall, of Greater St. Louis, called the headquarters a measure of "global relevance" for a community.
"It's a major and important indicator of the vibrancy — the competitiveness — of a community's assets," Hall said.