Château Capitoul, Gruissan, Narbonne Hotel and Luxury Villas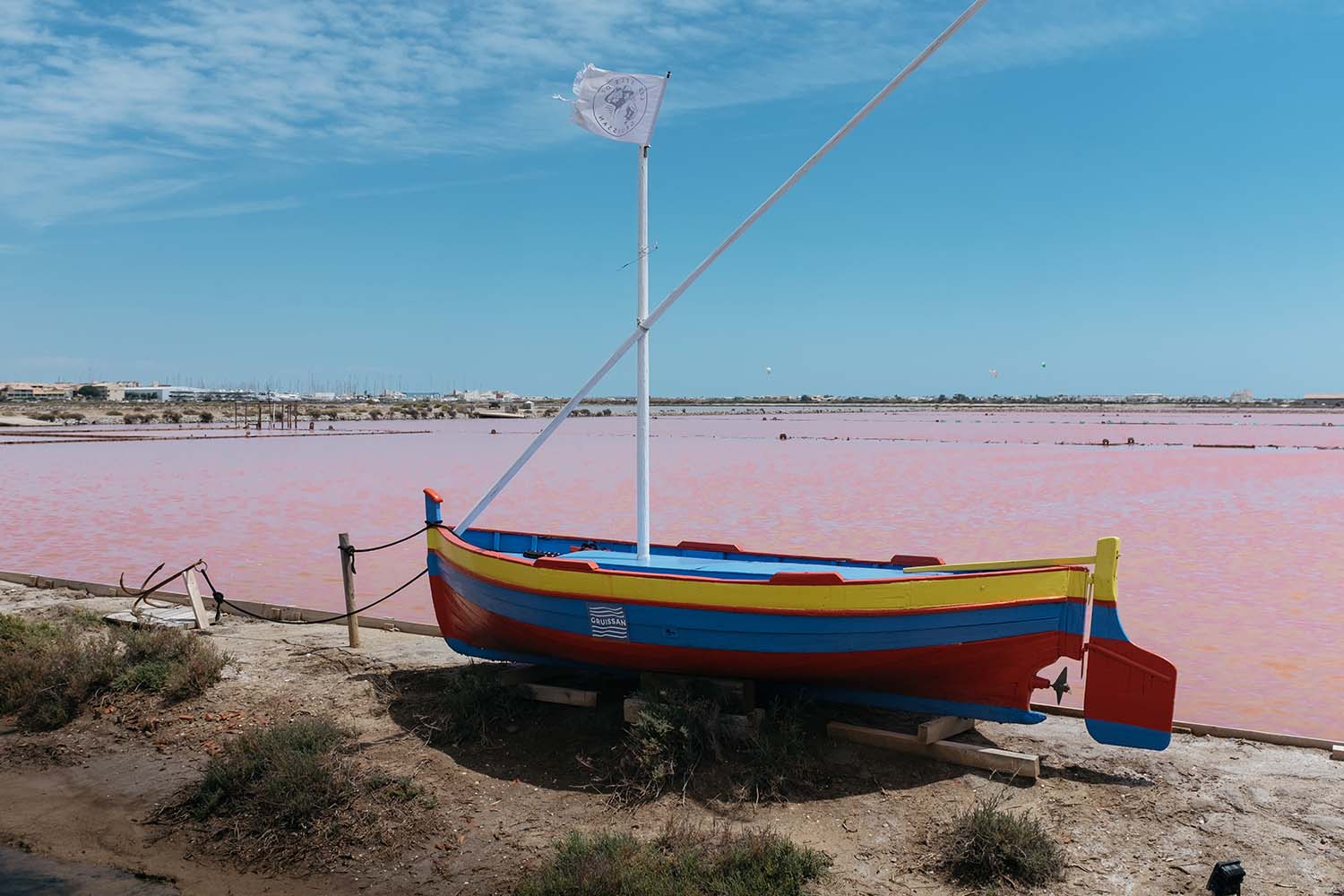 You know the Mediterranean. These are long lunches in an Italian fishing village; sunset evenings on the white sands of Ibiza; yachts and highlife in Sardinia; olive trees and mezze in Greece. Is it pink salt ponds, flamingos and shabby chic wooden houses on stilts? okay you think you know the Mediterranean.
These shabby chalets, more than 1,300 of them, and the vast expanses of sand they overlook provided an evocative backdrop for the famous 1986 French drama, Betty Blue (Where 37°2 in the morning), and Gruissan Plage retains a cinematic feel today, though it feels decidedly more Californian or Floridian than the Mediterranean you think you know.
Between the famous Côte d'Azur and the Spanish border, the Languedoc coast is an unknown corner of the Mediterranean rich in resplendent landscapes, lively cities, medieval castles and vast golden beaches. This is unfiltered, undiluted Mediterranean, a place that feels like you've discovered it; somewhere unrelated to your presence, just going on like it always has.
Here, in the Massif de la Clape natural park, unspoilt wetlands surrounding its white chalk cliffs, is a wine estate with a castle converted into a luxury hotel as well as sumptuous villas spread across a faux village that blends harmoniously in the landscape. Between the Roman city of Narbonne and the charming Gruissan where these chalets and stretches of sand are located, Château Capitoul offers a surprisingly connected disconnect. Less than a three-hour drive from Marseille or Barcelona, ​​this part of southern France is an away-from-it-all but close-enough hideaway that evokes nostalgia for a pre-budget airline world, while still being perfectly doable.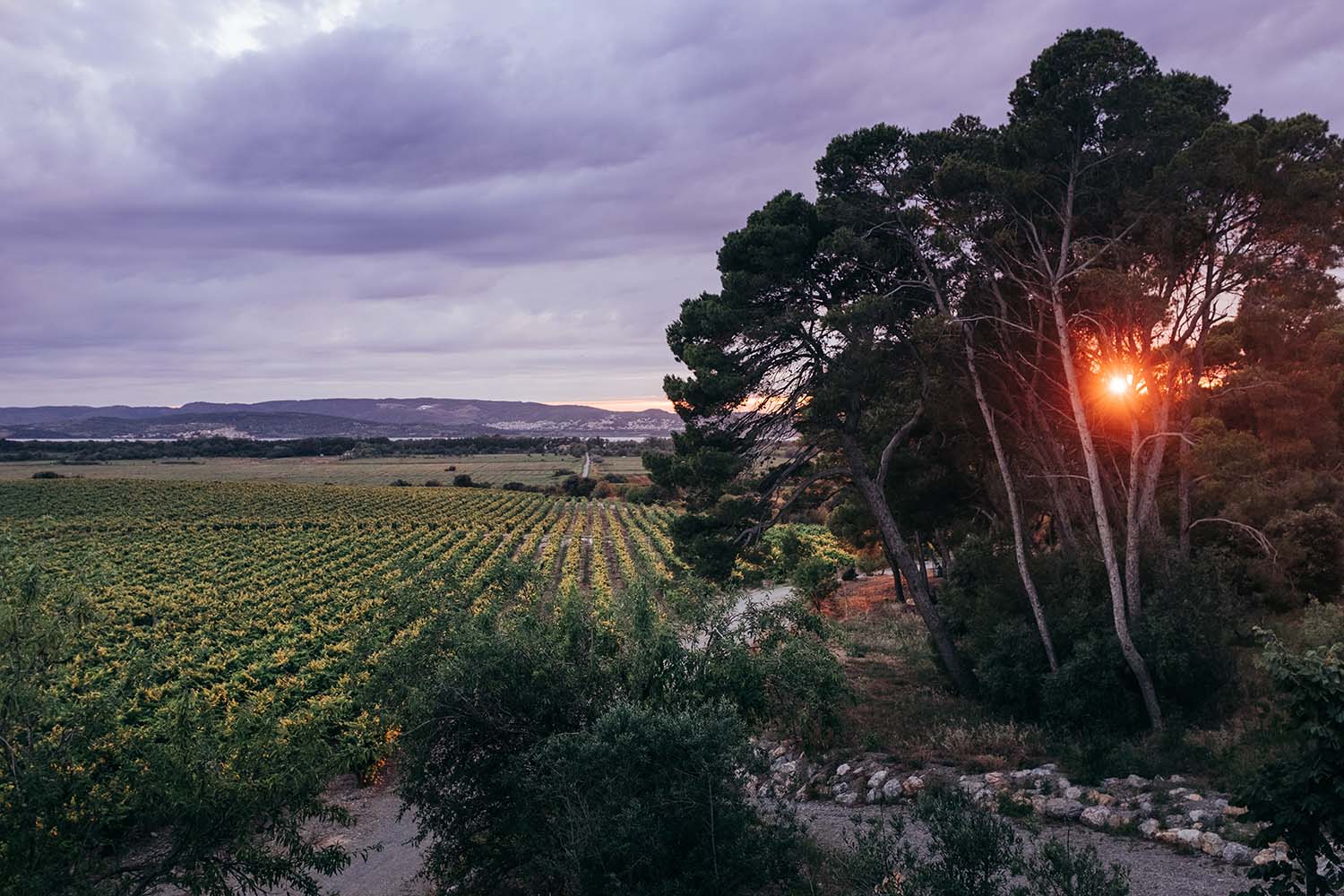 Sister property to the brilliant Château St Pierre de Serjac and Château les Carrasses, Capitoul sits on a hill surrounded by 240 acres of vineyards, olive groves and woodland, with views of a flamingo-filled lagoon and the Pyrenees beyond. . While the castle is home to eight luxury guest rooms, it's the sprawling detached villas – 44 in number – that allow you to create a bolthole from which to pause, inhale and savor the finer things in life. .
We arrive in the early afternoon on a sunny day in late June, the Chateau appearing from a scenic road just past Narbonne. Once check-in is complete, we are taken to villa number 40. Entering on the ground floor, the villa houses three bedrooms each with en-suite bathrooms, and a concrete staircase leads to the heart of the property: an open-plan living room , dining room and kitchen which open onto a large garden with private swimming pool. While we're at it, let's talk a bit about these gardens.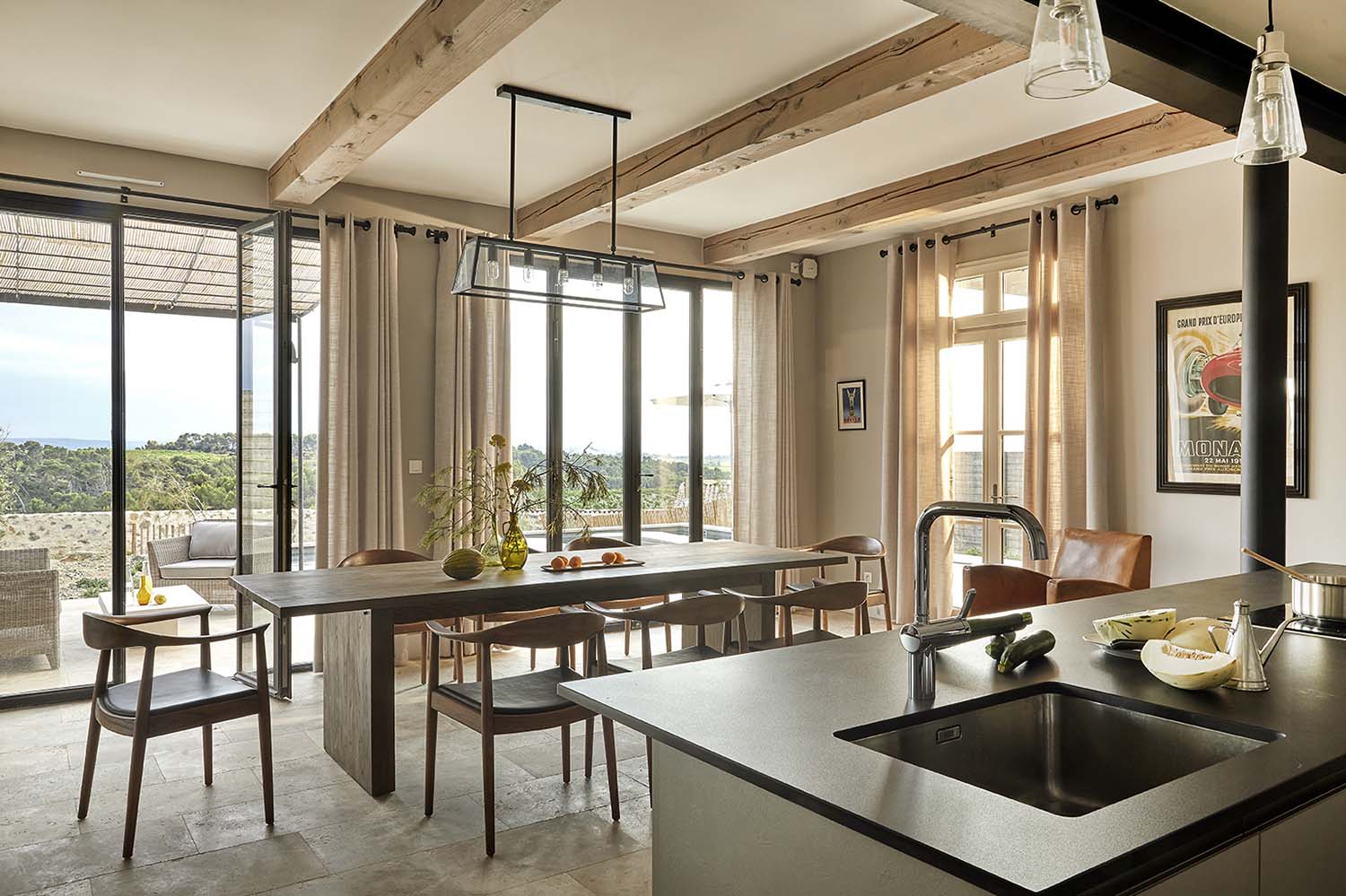 Designed by four-time Chelsea Flower Show gold medalist James Basson, who worked closely with dry garden botanist Olivier Filippi, the gardens and landscaping around the complex feature an array of local flora adapted to dry land and rocky; able to thrive without fertilizers or herbicides. And, above all, water. Filippi's ability to select drought- and disease-resistant plants, combined with Basson's aesthetic expertise, creates a landscape that is both otherworldly and delicately beautiful. It is therefore also deeply durable.
Flanked by these inspired dry gardens, our private swimming pool extends to the limits of our property, from where one can admire the view of the lagoon and the vineyards beyond. Heated from May to September, with an electronic retractable cover, it just borders on being utterly refreshing and eternally inviting. It's almost impossible to walk away.
Floating around, basking in the early summer sun, is a chance to enjoy the villa's authentic design. Inspired by traditional Languedoc architecture, its hue blending into the limestone landscape, reclaimed materials married with touches of modern luxury and high-end amenities, each villa is an oasis of calm overlooked by the lovingly restored 19th century chateau. love.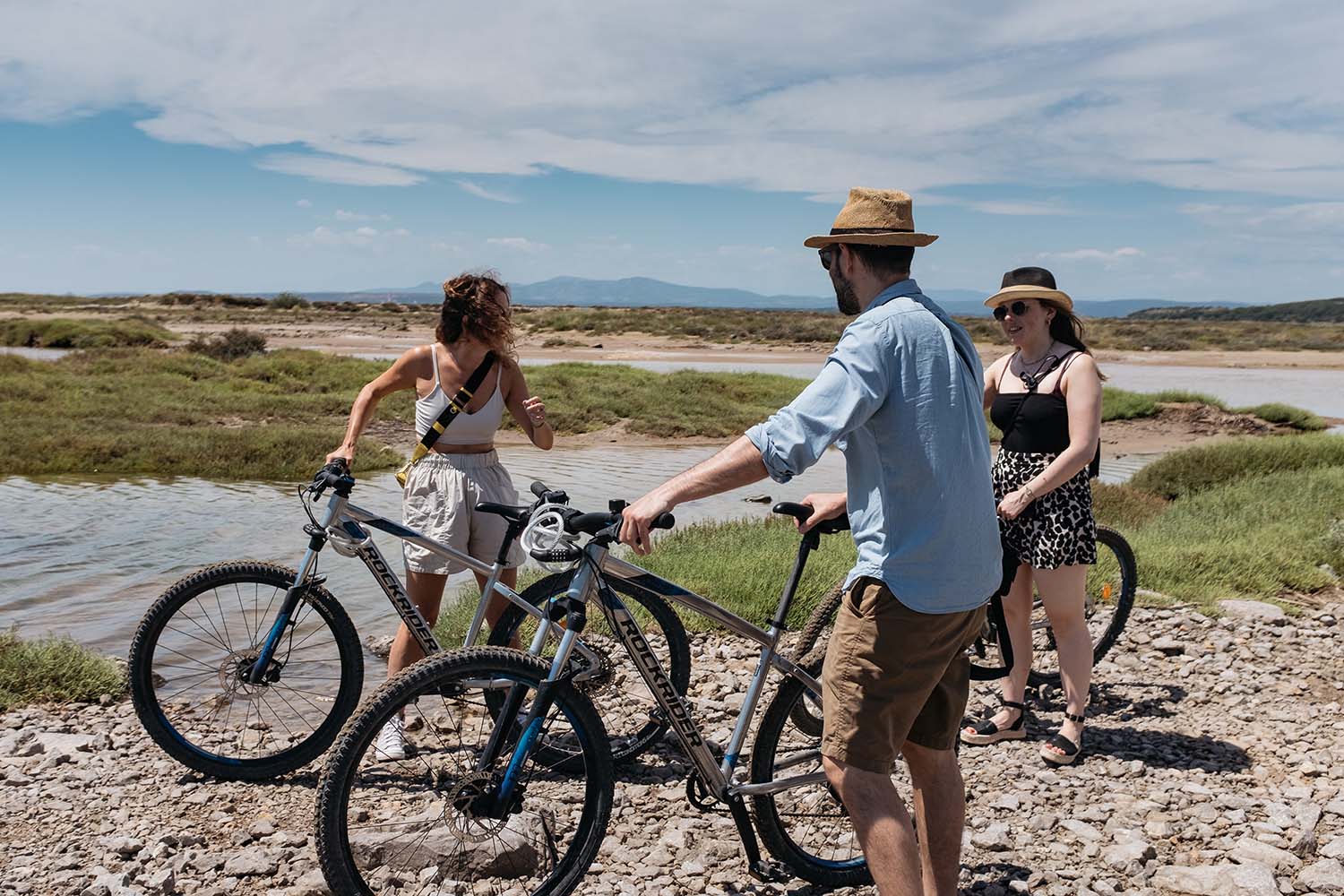 However, we have to leave everything behind. We were informed that, for healthy people like us (cough), Château Capitoul is surrounded by experiences and activities not to be missed. And so, armed with courtesy mountain bikes and steered through the vineyards of the estate, we find ourselves on the former film set of one of the most famous French films of all time.
It takes around 30 minutes by bike to reach the historic village of Gruissan, where the Barbarossa Tower, a remnant of a 13th-century castle, overlooks streets that are one minute sleepy, the next bustling with charming bars and restaurants.
Another ten minutes and you're at Gruissan Plage with its evocative wooden chalets and characterful open-air beach bars. It's relaxed and lively again, hard to describe as it seems so different from your perception of this part of the world. But if you like unpretentious Florida Gulf Coast fun, you'll love it here.
Across a creek that runs back into the village, and beyond the beauty of the vast, unspoiled sand dunes of Plage de la Vieille Nouvelle, you will find Le Salin de l'Île Saint Martin, a remarkable collection of bright pink salt ponds where sea salt has been harvested for over 100 years. A restaurant serves local seafood and oysters that can also be purchased for takeout, while a shop and museum round out a wholesome must-see attraction.
Back at the hotel, via an irresistible dip in our pool, it's dinner time. We sit on the terrace of Asado, a restaurant dedicated to the art of cooking over an open fire. With a huge specialist rig brought in from the Costa Brava, local fish and meats are cooked over vine wood and charcoal.
Inside, the design is big and bold and has a cosmopolitan city feel; outside, the large terrace overlooks the property's vineyards across the lagoon and the Pyrenees beyond. It is perfectly set up to catch a memorable sunset where the sky glows bright orange behind the silhouette of the 19th century castle. We share a selection of steaks, ribs, fresh fish, mussels and exquisite local oysters. It is utter decadence.
A few post-dinner drinks in our villa and it's time to sleep soundly, hit snooze and repeat. If only all Groundhog Days could be so happy. Today we replace the bike with a walk through the vineyards, a tour of the on-site winemaking facilities and a tasting. It's a dirty job but someone has to do it.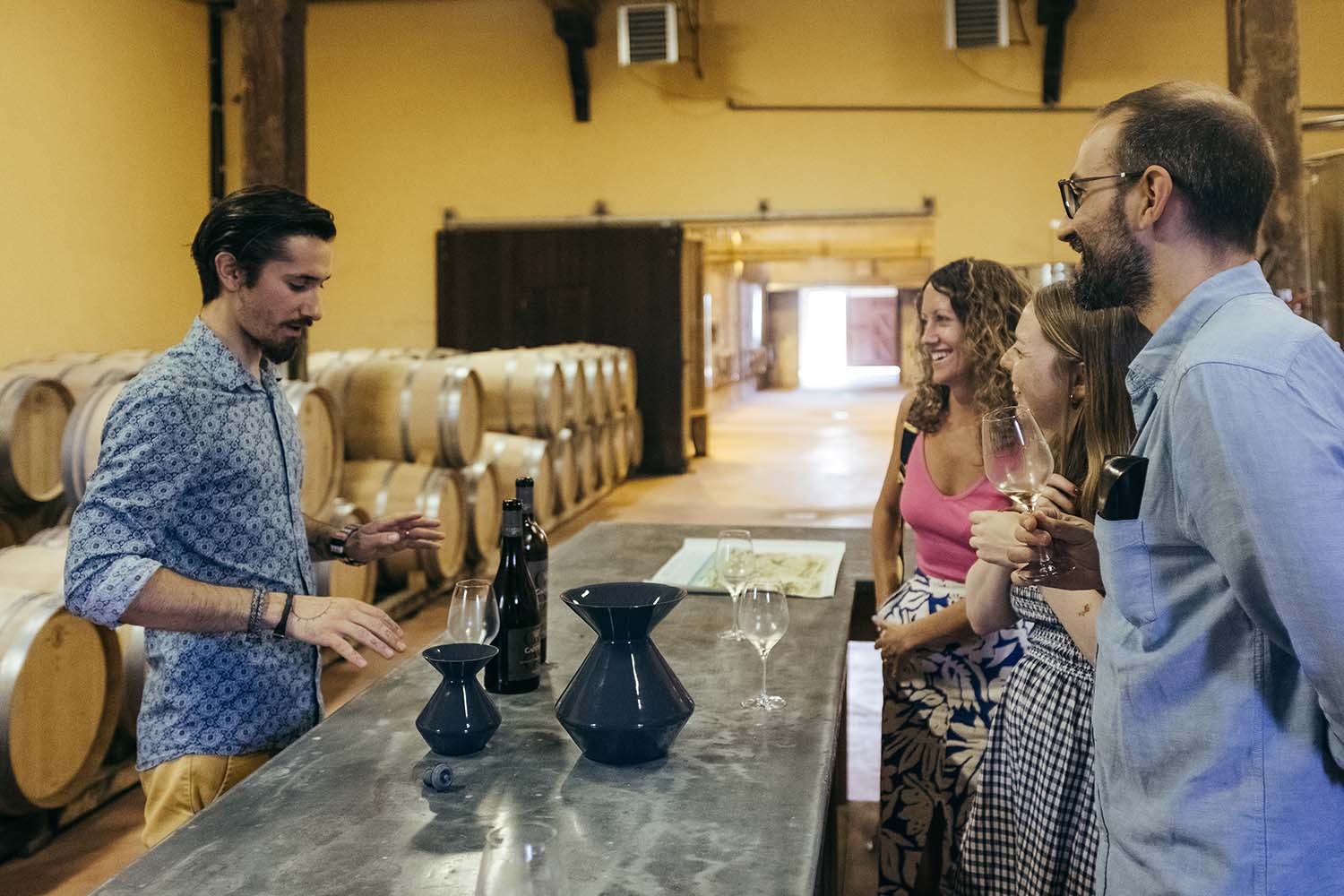 Our guide is informative and friendly, and the wine is really good. There is around 150 years of experience here (although viticulture in this region dates back to the 5th century BC), and the geological diversity of these Mediterranean soils allows for some interesting variations. Tonight we will be cooking dinner on our villa's outdoor plancha, so it would be rude not to take a selection with us.
Whole fish, selected cuts of meat and an assortment of starters and sides can be ordered from reception and cooked al fresco on your patio, and it's the perfect end to another perfect day. Huge open kitchens make in-villa dining an enjoyable experience, and long, laid-back nights at home with friends are the raw material for those dreams. Which isn't to say that the incredibly comfortable beds don't help a bit.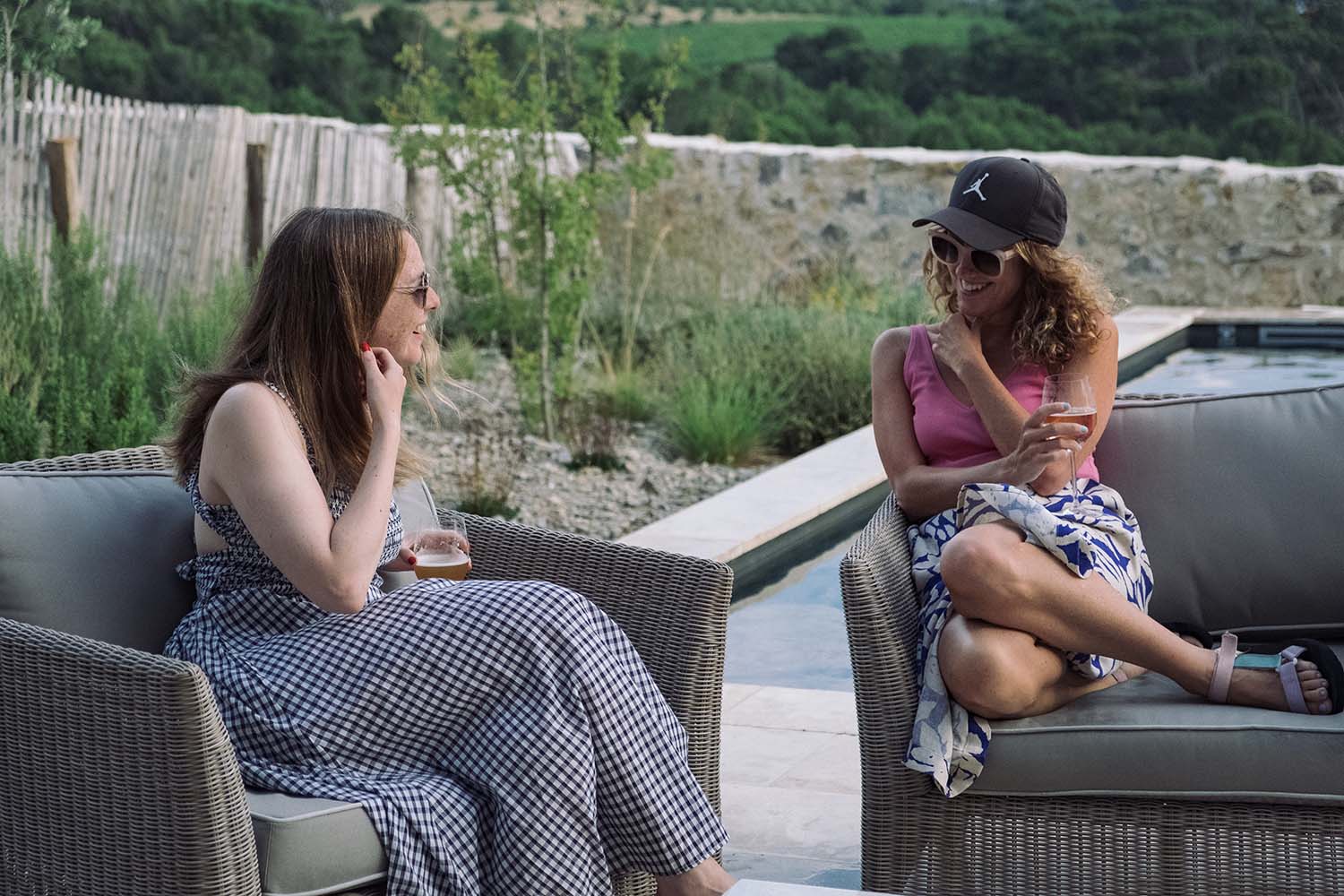 Another night and it's almost time to say goodbye to this little piece of paradise, but not before another swim, this time at the hotel's main pool. You might think we were crazy for leaving our private enclave, but this one is a real butcher; a vast infinity pool overlooking the vineyards, the lagoon and the mountains beyond. Luxury sunbeds with olive trees for shade, a bar with drinks and snacks, crisp clear water and unforgettable views. It's a perfect end to a perfect weekend in this lesser known part of the Mediterranean.
For those who are in search of discoveries, eager for activities, or those who want to let the sands of time flow with decadence through their fingers, Château Capitoul is a real marvel. Slow travel, authentic experiences, discovery and disconnection. When you think of the quintessence of the Mediterranean, the Languedoc coast should no longer be overlooked.
@chateaucapitoul